List of countries in Africa and their capitals sorted out in alphabetical order for easy reading. I have also taken time to answer a few common questions about Africa
Is Africa a Country or a Continent?
Africa is a continent. Although, it is often confused as a country, especially by people who have never visited Africa.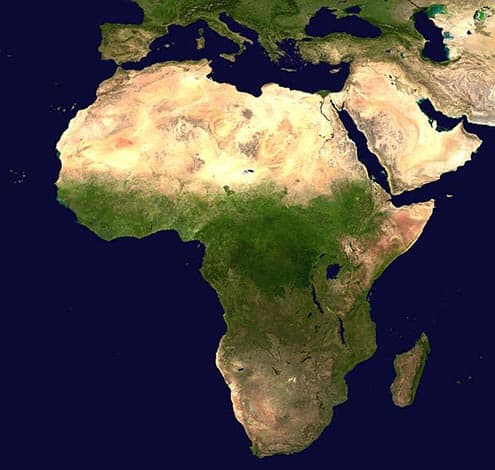 How Many Countries Are In Africa?
According to the African Union, there are 55 Countries in Africa.
List of Countries In Africa
The following is a list of all recognized countries in Africa and their capitals sorted out in alphabetical order. The Capitals are in bold letters to allow for visual clarity.
Algeria – Algiers
Angola – Luanda
Benin – Porto-Novo
Botswana – Gaborone
Burkina Faso – Ouagadougou
Burundi – Bujumbura
Cameroon – Yaounde
The Republic of Cabo Verde – Praia
The Central African Republic – Bangui
Chad – N'Djamena
Comoros – Moroni
Democratic Republic of Congo – Kinshasa
Republic of Congo – Brazzaville
Cote d'Ivoire – Yamoussoukro
Djibouti – Djibouti
Egypt – Cairo
Equatorial Guinea – Malabo
Eritrea – Asmara
Ethiopia – Addis Ababa
Gabon – Libreville
Gambia – Banjul
Ghana – Accra
Guinea – Conakry
Guinea-Bissau – Bissau
Kenya – Nairobi
Lesotho – Maseru
Liberia – Monrovia
Libya – Tripoli
Madagascar – Antananarivo
Malawi – Lilongwe
Mali – Bamako
Mauritania – Nouakchott
Mauritius – Port Louis
Morocco – Rabat
Mozambique – Maputo
Namibia – Windhoek
Niger – Niamey
Nigeria – Abuja
Rwanda – Kigali
Republic Arab Saharawi Democratic – Aauin
Sao Tome and Principe – Sao Tome
Senegal – Dakar
Seychelles – Victoria
Sierra Leone – Freetown
Somalia – Mogadishu
South Africa – Pretoria (Executive), Bloemfontein (Judicial), Capetown (Legislative)
South Sudan – Juba
Sudan – Khartoum
Swaziland – Lobamba (royal and legislative) Mbabane (Administrative)
Tanzania – Dar es Salaam (Traditional capital) Dodoma (Location of legislature)
Togo – Lomé
Tunisia – Tunis
Uganda – Kampala
Zambia – Lusaka
Zimbabwe – Harare
Are these all the countries in Africa?
Yes.
Note: Sahrawi Arab Democratic Republic is a partially independent country, but there remains a bone of contention between the country and Morocco. Morocco left the African Union because the African Union recognizes the legitimacy of Sahrawi Arab Democratic Republic. However, Morocco has now rejoined the Africa Union.